Minnesota Off Highway Vehicle (OHV/ATV) Park
About five miles away from Giants Ridge is the state's only designated OHV park. Its located in a reclaimed mine and is managed by the State of Minnesota. You can rent 4-wheelers and moto-cross bikes and go bombing around until your heart is content. Trails are graded much like ski slopes, offering a variety of terrain for novice and experienced riders.
http://www.ironrange.org/recreation/atv-ohv/

Mine Tours
Built on top of old iron mine tailings, Mine View In The Sky give you a fantastic view of the entire city of Virginia, MN and the now-flooded mine pit that sits adjacent to the town. It's free to go up and get a great view of the Iron Range.
http://www.ironrange.org/attractions/mining/mineview-in-the-sky/

If you'd rather go down 2,300 feet into the earth than several hundred feet above it, you can take a tour of the Soudan Underground Mine. It's on the south shores of Lake Vermilion, about 5-10 minutes East of Fortune Bay.
http://www.ironrange.org/attractions/mining/soudan-mine/

Frisbee (Disc) Golf
Giants Ridge is home to one of the world's largest disc golf courses. Its next to the ski hill/resort, mere steps from The Legend clubhouse and The Giants Ridge Lodge. It will run you a whopping five bucks to play, and has some great views of Giants Ridge as it plays up the ski hill. Follow the link below for a course map and some great pictures of the views from the course.
http://www.giantsridge.com/resort/disc-golf

Biking & Hiking
Giants Ridge maintains several miles of biking and hiking trails. For those that would like to take the "leisurely" version of hiking/biking, there's a "Summit Shuttle" that will drive groups up to the top of the ski hill. Given the laid-back nature of the Iron Range, you might even be able to take a beverage or two with you.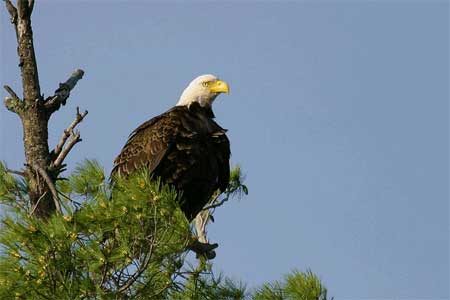 Stuntz Bay, Lake Vermilion - Hunting the same lunch as I

Floatplane Tours
By far one of the most exhilarating ways to enjoy flight, you can tour Lake Vermilion and the surrounding region (including Giants Ridge) from the air! A floatplane endorsement is priority #2 for me (after the pilots license itself) and what better way to experience it than on Lake Vermilion? Flights require a reservation and are reasonably priced, so if you want to go, give Van Air a call. See link below.
http://www.flyvanair.com/